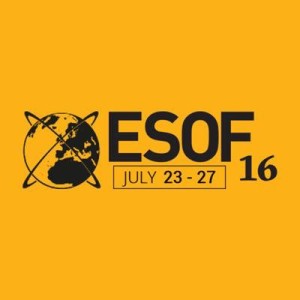 Minerva creativity wins through at ESOF 16    
The Minerva team achieved great success for itself and the science it represents at the Euro Science Open Forum (ESOF) in Manchester this Summer, 2016.
Not only did Minerva create a stand that was buzzing throughout the event promoting its lead knowledge transfer project CommBeBiz, but Minerva also staged two, highly successful events. The focus of the events – won through a highly competitive process prior to ESOF – was for early stage European researchers and another of its projects, I.Family.
Alongside Minerva-based activities, Director of Minerva, Rhonda Smith also helped to design and deliver an engaging and impactful workshop on Science Communication, on behalf of the European Commission. More than 180 co-ordinators of European projects took part and worked on topics as diverse as space to cruise ship collisions, and farmed animal welfare to personalised medicine. You can find links to presentations from the day here.
The standing-room-only audience was enthralled as an MP, a research director and a science journalist gave presentation advice to three early stage researchers, who had presented on subjects as diverse as nanotechnology to improve cancer treatment; insect protein for farmed animals and mapping Mercury. The session highlighted the need for clear, concise communication when relating scientific research to the media or the public – a key part of Minerva's scope and expertise.
The I.Family session asked the question: what is mindfulness and how does it affect our everyday health choices? Three experts from the project, which focuses on healthy lifestyles for families, carried out three mini-sessions on different aspects of health behaviour. Questions were also taken from the audience and ably answered by both the project partners and members of the Minerva team.
What kept visitors to the CommBeBiz stand entertained and coming back? Who would have guessed the skateboard on the stand was made of Chilean fishing nets; that the espresso cup was recycled from used coffee grounds; or the protein bars were made with cricket flour? Whichever caught their attention, attendees leapt at the chance to fill out the quiz on surprising materials in everyday objects, and leave their details so they could keep in touch with the project.
Overall the Minerva team contributed hugely to ESOF 2016, sharing its expertise in several different areas across the conference. Bring on Toulouse 2018!