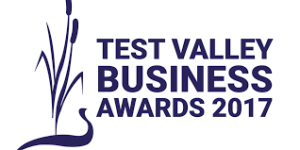 Following the company's nomination for the Test Valley Business Awards 2017, Rhonda Smith, Director of Minerva Communications was delighted to receive a Highly Commended accolade at the Gala Dinner & Awards celebration on Thursday 14th September.
The recognition, for the Brenda Locke Award for Women in Business, celebrates female entrepreneurs with a strong connection to their local community, through marketing, trading, recruiting and sourcing local services and goods.
Rhonda comments: "Whilst Minerva's client base goes beyond the UK, in all areas of our work we endeavour to support the local community, not only in recruiting and developing local staff, but in sharing our expertise with local charities and not-for-profits. We also take every opportunity to provide work experience for local young people interested not only in the communications business, but also in considering their own career and education choices."
With celebrations taking place among the unique exhibits of The Museum of Army Flying, Middle Wallop, the entire staff team from Minerva was in attendance to see Rhonda receive the Award.
Following a sumptuous three course meal, guest speaker Rev. Richard Coles entertained the audience with witty and impassioned tales of his diverse life. Exploits from his time as a popular musician, vicar, TV personality and his current popularity as a Strictly Come Dancing contestant, drew laughter and fascination from the audience.
Winners of The Brenda Locke Award for Women in Business, sponsored by Phoenix Transconnect, were announced during the evening.  "We are very pleased to have been recognised for our work in the community and women in particular," said Rhonda. "The Awards are well-respected in the Test Valley area and we are proud to be a part of them."